Next Generation Aeronautical Innovation Hub Center
JAXA's Next Generation Aeronautical Innovation Hub Center is an "all-Japan" base designed to stimulate innovation and the growth of the Japanese aviation industry. Located at the Chofu Aerospace Center, which boasts extensive aeronautical R & D assets, the Innovation Hub Center facilitates cross-sectoral and multidisciplinary collaborations with a wide variety of stakeholders in diverse fields, across organizations and sectors.
Developing the aircraft manufacturing industry as one of Japan's main economic drivers not only requires boosting the industry's integration abilities (system-wide design and development abilities for airframes and engines), but also involves venturing into frontier technologies that international competitors have yet to acquire in order to make Japan one of the leaders of the global aircraft industry. The JAXA Aeronautical Technology Directorate has been pursuing a variety of research and development initiatives through joint projects with industry partners, universities, and other research institutions.
With the launch of the Innovation Hub Center, JAXA is reaffirming its commitment to giving the Japanese aviation industry stronger technological capabilities and bringing innovation in air transportation with high-impact technologies.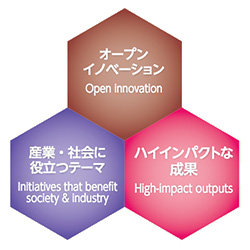 Major R & D initiatives at the Next Generation Aeronautical Innovation Hub Center