[Report] JAXA Aeronautics Symposium in NAGOYA
"JAXA Aeronautics Symposium in Nagoya" was held on 12 October. 254 participants from industry, government, research organisations and the general public as well as IFAR representatives exchanged their views on the challenges of the future air transport system with emphasis on environmental aspects.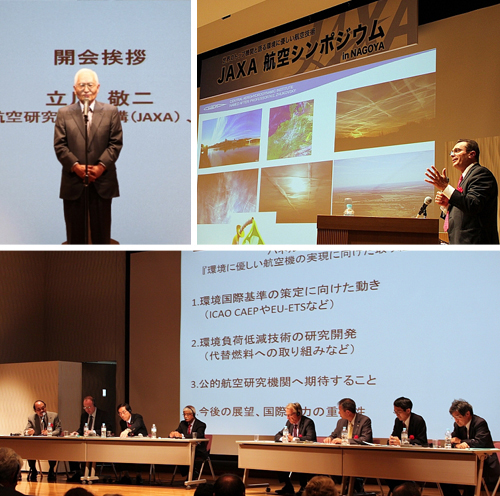 Lectures - "R&D on improving the environmental impact of next-generation aircraft"
Panel Discussion - "Challenges for realizing environmentally-compatible aviation - The Way Forward"
Moderator: Dr. Takashi Ishikawa (Professor, Nagoya University)
Panelists:
Prof. Dr.-Ing Joachim Szodruch (Chairman, International Forum of Aviation Research (IFAR))
Mr. Dale King (Senior Manager of International R&T Partnerships, Airbus)
Dr. Belur Shivashankara (Senior Technical Executive for the EcoDemonstrator Program and Environmental Performance, Boeing Commercial Airplanes)
Mr. Nobuo Toda (Corporate Advisor, Nagoya Aerospace Systems, Mitsubishi Heavy Industries)
Mr. Yasunori Abe (Staff V.P., Public Relations, Japan Airlines)
Prof. Kenichi Rinoie (Professor, University of Tokyo)
Dr. Toshiyuki Iwamiya (Program Director, JAXA APG)