Structural technology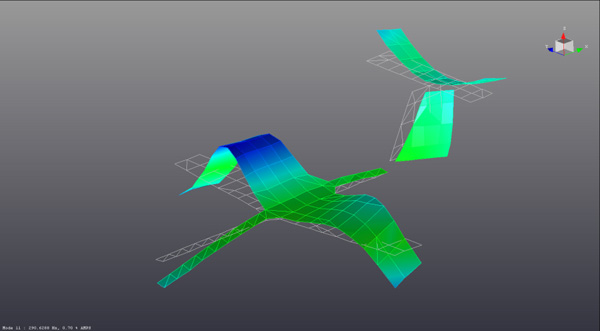 In addition to being lightweight, aircraft and spacecraft require high mechanical strength and must be able to withstand severe operational environments. JAXA is currently pursuing a range of research and development activities to improve the reliability and function of aerospace structures. Moreover, it is strengthening its cooperation with domestic and overseas institutions in support of these R&D activities.
Research on composite structures under severe environments
Application of multi-scale simulation technology to composite ablation materials
To develop analytical techniques of composite ablation structures such as solid rocket motor nozzles at high temperatures, multi-scale simulation technology is used, from microscopic to macroscopic viewpoints, for structural assessment.
Leak-resistant design technology of cryogenic fuel tanks
We plan to design, fabricate and evaluate cryogenic fuel tanks made from composite materials for a range of practical applications. The leakage requirement for such tanks must be slight or non-existent at cryogenic temperature conditions. To achieve these aims, technologies that support cryogenic fuel tank design must be developed.
Research on structural vibration
Modeling and identification of large flexible structures
We are studying on-orbit system identification methods of large flexible structures such as large flexible satellites, which contribute to the development of next generation satellites.
Improved aeroservoelastic modeling
Through our improved understanding of nonlinear aerodynamic and structural performance in aeroelastic problems and for improving the accuracy of numerical analysis, we are designing an active control system for aeroelastic structures based on a validated baseline model.
Research on innovative measuring technology
Contactless measurement of vibration
The natural vibration model of a structure can be identified by contactless excitation and contactless estimation of that excitation force. Although we can estimate all natural vibration modes, our ultimate aim is to obtain a more accurate measure of natural vibration modes (close to the theoretical value) than those currently achieved using conventional methods.
Wireless detection of strain
A sensor system for the wireless detection of material strain will be developed to replace conventional systems. This technology has the potential to be applied in a range of applications outside of aerospace.
Exploration of optical fiber sensors
We are striving to enhance monitoring speed and improve the environmental performance of Optical Frequency Domain Reflectometry (OFDR) – Fiber Bragg Grating (FBG) strain measurements to assess the structural health of aircraft in real-time. In addition, we are assessing the performance of hetero-core sensors for the detection of hydrogen leakage to improve our technology for multi-point monitoring at low temperatures and pressures.