Flight technology
April 3, 2017
JAXA conducts flight tests at Chōfu Airfield and Nagoya Airport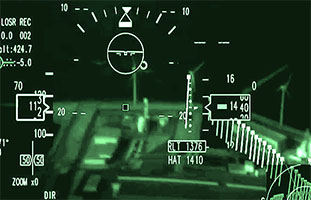 The SAVERH screen shows the heights of ground obstructions, which the system calculates using measured distances.
From late December 2016 to mid-January 2017, JAXA and Shimadzu Corporation conducted 7 joint flight tests on the "Situational Awareness and Visual Enhancer for Rescue Helicopter" (SAVERH) with JAXA's research helicopter at Chōfu Airfield and Nagoya Airport. SAVERH technology enables pilots to fly more safely at night and in adverse weather. By providing information on obstacles and other potential hazards to pilots, the system helps pilots conduct disaster-relief missions, emergency-care missions, and other missions that they need to fly regardless of time of day or weather conditions.
For the tests, a sensor pod with a night vision system (NVS) capable of amplifying light in low-light conditions, a laser range finder for measuring distances to obstacles, and other components were equipped under the helicopter's nose. The research team focused on how well the various components functioned in actual flight.
Although the number of flights was reduced due to bad weather, the team managed to fly the aircraft for around 2 hours per test and assess both component performance and system display functionality during maneuvers ranging from level flight and circling to ascent, descent, acceleration, and deceleration. The team is now working to analyze the test data, make the necessary improvements to the system, and boost overall reliability. In FY2017, JAXA is planning to do additional flight tests in Taiki Aerospace Research Field, Hokkaido.