High-accuracy satellite navigation technology
May 2, 2014
Testing a Next-Generation Landing Guidance System with ENRI at New Ishigaki Airport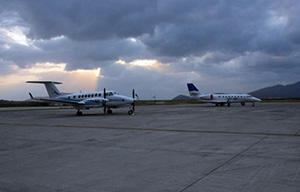 "Hisho" (right) and "Yotsuba" (left) waiting for the start of a flight test at New Ishigaki Airport
From March 19 through March 30, 2014, JAXA and the Electronic Navigation Research Institute (ENRI) conducted an assessment test of the next-generation landing guidance system "GAST-D," for which international standards are being determined.
Currently, instrument landing systems (ILS) are used at many airports to enable aircraft to land safely even in low-visibility conditions due to bad weather. By transmitting GPS correction messages to supplement onboard satellite navigation, ground-based augmentation systems (GBAS) provide the same function as ILS with equivalent or higher precision. GBAS is also expected to allow for curved and flexible approaches that cannot be realized with ILS.
ENRI developed a prototype for a Category-III GBAS (GAST-D) ground facility capable of safely guiding an aircraft even in more severe weather conditions and installed it at New Ishigaki Airport. Flight experiments were performed by JAXA with the research aircraft "Hisho" to investigate the effects of ionospheric plasma bubbles* on satellite navigation, as well as by ENRI with the research aircraft "Yotsuba" to evaluate the performance of the installed GAST-D system.
* Plasma bubble: an ionospheric disturbance where the plasma density is depleted; occurs at low latitudes around the magnetic equator in the night in equinox seasons in the Asian sector. GPS signals that pass through plasma bubbles experience rapid fluctuations in amplitude and phase, which may result in malfunction of GPS-based navigation systems.