Research & Development
JAXA promotes three research and development programs and a fundamental research program that underpins them.
Optical measurement technologies
In-flight PSP measurement test to visualize shock wave locations on the main wing
In October 2018, a night flight test was held to measure locations of shock waves generated on the main wing of "Hisho", JAXA's jet flying test bed, using pressure-sensitive paint (PSP) sheets to visualize the locations
PSP emits different types of phosphorescence according to oxygen concentration. It illuminates brighter when pressure is lower. Oxygen concentration depends on the surrounding pressure; hence pressure can be calculated when we measure how PSP illuminates. Pressure measurements using PSP have already been the conventional method for wind tunnel tests, but, if we can establish in-flight PSP measurement technology, we will be able to study actual pressure distribution that an airplane experiences during flight.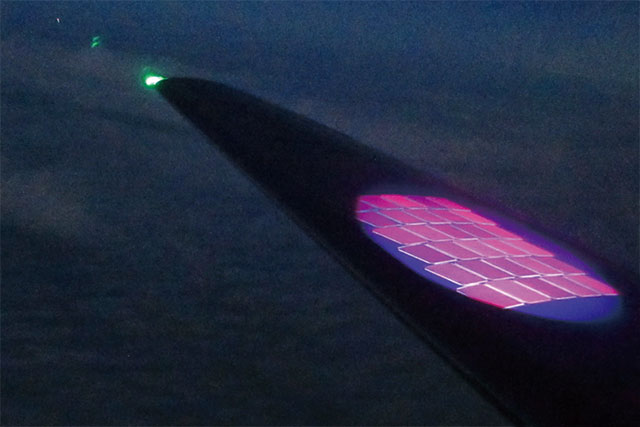 Flight tests at JAXA Taiki Aerospace Research Field. Many tests were held from sunset to night.
March 8, 2019