Research & Development
JAXA promotes three research and development programs and a fundamental research program that underpins them.
Four-engine tilt wing VTOL aircraft
JAXA has been promoting fundamental research into a four-engine tilt wing (QTW: Quad Tilt Wing) VTOL aircraft using unmanned aircraft.
With a tilt wing, different from a tilt rotor, the wing direction itself is changed: the wing and propeller are turned upward for vertical takeoff and landing and are turned forward for cruising. Consequently, VTOL of the aircraft is made possible. Aircraft of this type can fly with higher cruising efficiency than that of tilt rotor type aircraft. The mechanism can be simplified because of the absence of a rotor.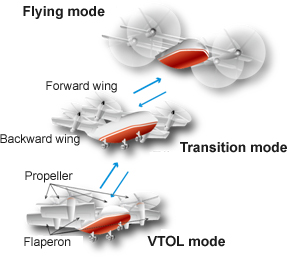 QTW flying profile
In research related to QTW unmanned aircraft, analysis of airframe flight characteristics and development of a control system have been promoted. Flight experiments demonstrated a stable and thorough transition from vertical takeoff to acceleration, cruising, deceleration, until vertical landing.
With a new aviation field creation program (Sky Frontier), we are promoting further research and development aimed at the realization of VTOL type passenger aircraft, particularly addressing improvements in safety and cruising performance.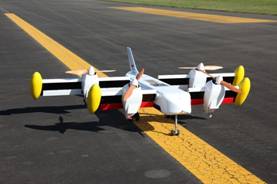 QTW unmanned aircraft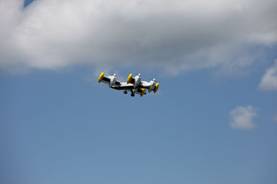 Transition flying of QTW unmanned aircraft