About us
JAXA Aviation helps to create a safer and more prosperous society with aeronautics-related research and development activities.
Cooperation with overseas
Cooperation with overseas organizations
As Japan's public aeronautical R&D institution, JAXA Aviation Technology Directorate (ATD) aims to contribute to the enhancement of Japan's global competitiveness in aviation industry, the realization of secure society through enhanced air transportation safety, and the creation of future air transportation breakthroughs.
In order to achieve these objectives, JAXA ATD is strengthening its technical capabilities by closely working with overseas public aeronautical research institutions, private companies, and universities, engaging in a variety of mutually beneficial and complementary joint research activities, ranging from fundamental research to flight tests that demonstrates promising new technologies in real flight environments. Through these international collaborations with global partners such as NASA, JAXA researchers gain valuable new insights and knowledge, while aiming to create synergy in tackling global challenges facing aviation today and in the future. Furthermore, in order to promote mutual understanding across national and cultural borders, JAXA engages in personnel exchange with these partner organizations, sending and receiving researchers for up to a year.
International Forum for Aviation Research (IFAR)
JAXA is an active member of International Forum for Aviation Research (IFAR), the world´s only public aviation research establishment network which was founded in 2010. With 26 member organizations from around the world*1, IFAR's mission is to promote amongst its members: (1) networking and information exchange, (2) technical collaboration, and (3) human resources development. Member institutions gather every year for an annual meeting called the IFAR Summit to exchange views and ideas on various issues related to common challenges faced by aviation and public aeronautical research organizations. In addition to hosting an IFAR Summit in Nagoya in 2012, JAXA has actively taken a leadership role by serving IFAR as a Vice Chair, Chair, and Past-Chair organization as part of IFAR's Leadership Team from 2014 to 2019.
*1: as of February 2019.
Contribution to international organizations
JAXA serves as Japanese government's official adviser to the Civil Aviation Bureau on the Committee on Aviation Environmental Protection (CAEP), which oversees the development of global regulations on aircraft emissions and noise for the International Civil Aviation Organization (ICAO) -- a UN agency that establishes standards for global air transportation. JAXA sends researchers to act as technology specialists at CAEP's technical working groups.
JAXA also contributes in the development of ISO standards for composite material testing methods using its world-class composite material testing equipment and simulation technology.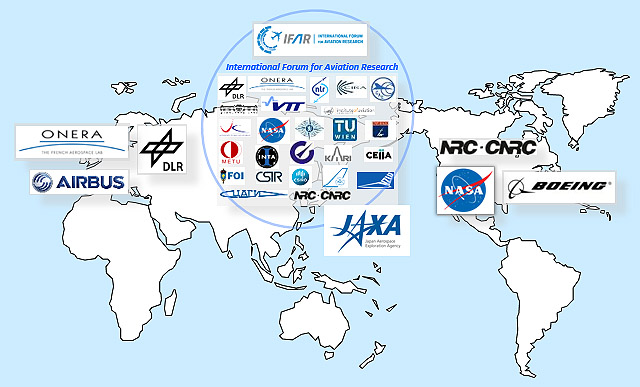 Updated on May 31, 2019