About us
JAXA Aviation helps to create a safer and more prosperous society with aeronautics-related research and development activities.
FLIGHT PATH No.22 | 2018 WINTER
<JAXA Aeronautics Symposium 2018>
Special Lecture by Boeing
"Innovation for the Future of Aerospace"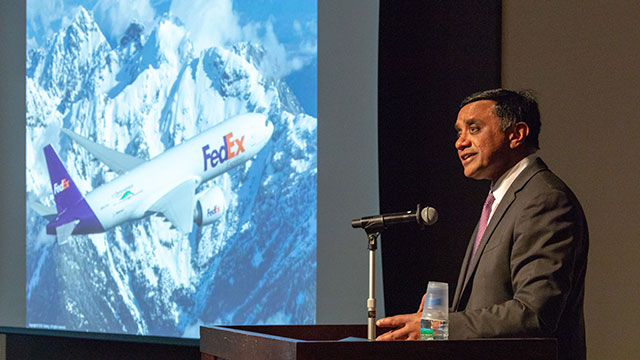 ecoDemonstrator program gives partners opportunity to test new technologies on a Boeing airplane
In his special lecture titled "Innovation for the Future of Aerospace," Dr. Naveed Hussain shared the results and a short footage of the flight test of JAXA's clear-air turbulence detection system conducted in Boeing's 2018 ecoDemonstrator program.
Boeing's ecoDemonstrator program, now in its fifth iteration, serves as a series of flying test beds designed to improve the environmental performance and safety of future airplanes. The flight test in spring 2018 tested more than 30 technologies, including JAXA's clear-air turbulence detection system, using the FedEX-owned 777 freighter.
First successful detection of clear-air turbulence on a large commercial aircraft
Dr. Hussain showed the photo of Boeing and JAXA people working on the ecoDemonstrator 2018 project. "It was a privilege to work with these members as a team," he said. "Driving innovation. Changing our future. The most important element in these efforts is people. So the most important slide in this presentation is this picture."
The data obtained through the flight test are currently being analyzed, but Dr. Hussain stated the significance of the latest experiment as follows. "We put the clear-air turbulence detection system on a large commercial aircraft for the first time, and we were able to detect clear-air turbulence. This opens the door to a host of different possibilities. For passengers, it means their flight will be more comfortable. The ability to detect turbulence in advance also makes it possible to navigate the aircraft in a way that reduces the impact of the turbulence. I believe this serves as an example to illustrate how the future of commercial aircraft will change."
Creating innovation and pursuing cutting-edge research
To give an example of how Boeing works to create innovation, Dr. Hussain introduced the activities of two of its organizations.
Boeing HorizonX makes targeted investments in promising ventures, discovers new partnerships, and creates unique businesses using innovative technology. Reaction Engines, which develops engines for hypersonic aircraft, and BridgeSat, which plans to use satellites for optical communication, were named as examples of ventures that it invests in. Boeing NeXt is an organization focused on finding real-life applications for new technologies. One of its primary aims is to help create an ecosystem that will realize safer and more efficient transportation of people and goods.
Numerous examples were given of cutting-edge projects that Boeing is pursuing, including hypersonic aircraft capable of flying at Mach 5 and subsonic Blended Wing Body aircraft, which features a design that blends the wings into the fuselage. The transonic truss-braced wing concept, which is loaded with countless new technologies, is a hybrid electric aircraft with high-aspect-ratio wings. Its fan mounted at the rear end of the fuselage is designed to take in boundary layer airflow. The Phantom Express is a reusable spacecraft for deploying small satellites into low Earth orbit. It is launched like a rocket and returns to Earth like an aircraft.
Dr. Hussain noted that the market for supersonic transport is growing rapidly.
Creating a better future together
Dr. Hussain named commercial supersonic aircraft, high-speed rotorcraft, hypersonic aircraft, LIDAR, and acoustics as some of the potential areas for future collaboration with JAXA. As for LIDAR, he pointed out that it would be vital to take the experiment of the clear-air turbulence detection system to the next stage and establish it as standard technology for the aviation industry.
Dr. Hussain stresses the importance of collaborative partnerships in tackling global issues in the aeronautical field. "I believe JAXA is thinking how to meet Japan's aerospace needs in the future," he said. "I'm sure they're also thinking how to provide better services around the world. On this point, I believe JAXA and Boeing can work together."
Dr. Naveed Hussain
Dr. Naveed Hussain is vice president* of Aeromechanics Technology and leads the Boeing Research & Technology research center. He oversees a team of scientists, technologists, technicians and engineers who are responsible for integrated technology development in the areas of flight sciences and structures. The Aeromechanics team leads innovative future aircraft concepts and enables future aerospace solutions.
* As of October 3, 2018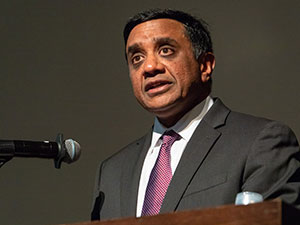 JAXA Aeronautics Symposium 2018