About us
JAXA Aviation helps to create a safer and more prosperous society with aeronautics-related research and development activities.
FLIGHT PATH No.22 | 2018 WINTER
<JAXA Aeronautics Symposium 2018>
Special Lecture by Airbus
"AIRBUS: The electrification path"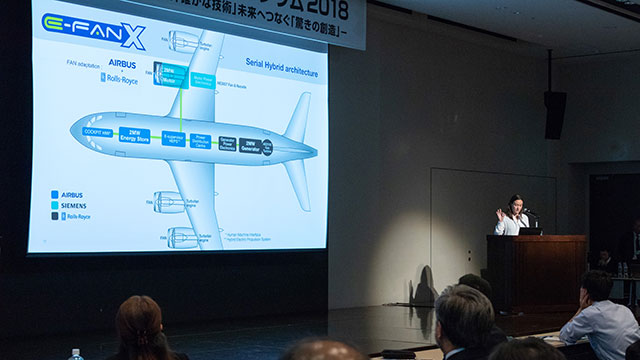 Developing new verticals: Drone delivery & urban air mobility
Ms. Lucie Ravelojaona gave a special presentation titled "Airbus: The electrification path."
She explained Airbus' green approach to urbanization, taking "Skyways" and "Vahana" as examples. "Skyways" is an unmanned aircraft system designed for autonomous parcel delivery services in dense urban environments. As a potential solution to the "last-mile" problem in gridlock cities, it is currently being tested in Singapore. Vahana is a self-piloted electric vertical take-off and landing (eVTOL) aircraft with tilt wings, which completed its first flight in 2018. It is designed to transport a single-passenger, or cargo, with the aim of opening up urban airways.
The concept aircraft "CityAirbus" and "Pop.Up Next" were also presented as Airbus' new urban air mobility vehicles. Airbus is developing a self-piloted eVTOL aircraft "CityAirbus," which can transport up to four passengers. With ground tests completed in 2017 to verify the electric propulsion system, CityAirbus is set to make its maiden flight in 2019. An air and ground passenger concept vehicle called "Pop.Up Next" was also introduced. The carbon-fiber passenger capsule was developed by Audi and Italdesign and works as an electric car on the ground. The capsule turns into an electric aircraft when a VTOL unit developed by Airbus and equipped with eight counter-rotating rotors is mounted on the roof.
E-Fan X for demonstrating serial hybrid technologies
In addition to urban air mobility, Airbus has also been working on the electrification of conventional aircraft since the start of this decade. Airbus' E-Fan small electric aircraft made its first flight in 2014 and successfully crossed the English Channel in 2015. In 2016, Airbus collaborated with Siemens to flight test another small electric plane, "Siemens Extra 330LE." These aircraft employ a pure electric system, consisting of batteries and electric fans and is designed to fly small aircraft.
Airbus is also pursuing research of a serial hybrid system, which will be used to electrify medium-sized and large passenger aircraft. A serial hybrid aircraft generates electricity with a gas turbine installed onboard and uses this electricity to power the electric fans that propel the aircraft.
According to Ms. Ravelojaona, Airbus plans to conduct a flight test of the E-Fan X serial hybrid demonstrator E-Fan X is being jointly developed by Airbus, Siemens, and Rolls-Royce. One of the four jet engines of a British Aerospace (BAe) 146 aircraft will be replaced with an electric fan. Siemens will supply an AE2100 gas turbine that will generate 2 MW of electricity and an electric motor that will drive the fan. The fan is being developed by Airbus and Rolls-Royce.
"E-Fan X will be a huge milestone for the development of serial hybrid aircraft," she stressed. Along with these efforts, Airbus is also making preparations to obtain certification for hybrid aircraft.
Electric propulsion is the most promising technology
"Electric propulsion is the most promising technology for future aircraft," she says. "UK-based airline easyJet has announced that it will be flying electric planes within the next 10 years. Norway is aiming for all short-haul flights to be electric-powered by 2040. Airlines and passengers are demanding electrification, too."
Ms. Ravelojaona shared her thoughts on what she expected of JAXA. "Innovation is key for both Airbus and JAXA. We are already doing joint research in the area of materials. We would like to further explore possibilities for innovation with JAXA to create game changing technologies."
Ms. Lucie Ravelojaona
Ms. Lucie Ravelojaona serves as innovation manager for Airbus. She is in charge of all innovation-related scouting activities in Japan, South Korea and South East Asia, including identifying and building network with start-ups, incubators, investors and corporates, and following up projects launched locally.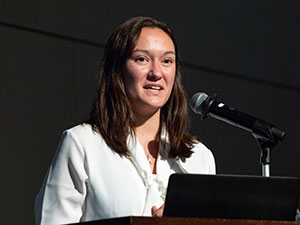 JAXA Aeronautics Symposium 2018