Research & Development
JAXA promotes three research and development programs and a fundamental research program that underpins them.
Distributed and Revolutionarily Efficient Air-traffic Management System (DREAMS)
To prepare for the ever-expanding aviation transportation volume that is expected to amount to twice that of the current status in 2030, the International Civil Aviation Organization (ICAO) has presented a future vision, "Global Air Traffic Management (ATM) Operational Concept", which evolves global air traffic management concept itself by promoting globally harmonized action. To respond to this global framework, in Japan, the "Collaborative Actions for Renovation of Air Traffic Systems (CARATS)" was set by the Ministry of Land, Infrastructure, Transport and Tourism.
From 2012 to 2015, JAXA carried out the "DREAMS (Distributed and Revolutionarily Efficient Air-traffic Management System)" project to cultivate and accumulate technologies that can contribute to the implementation of a longer term vision for the future air traffic system addressed in CARATS.
The DREAMS project has pursued the development of five key technologies: 1) weather information technology; 2) noise abatement technology; 3) high-accuracy satellite navigation technology; 4) trajectory control technology; and 5) Aircraft operation technology for disaster relief. Technologies 1) to 4) are designed to cope mainly with the increasing volume of air traffic in and around airports. Therefore, they cover various subjects including prediction of wake turbulence and low level turbulence, which disturb high-frequency take-offs and landings, adjusting flight approach paths to minimize areas affected by noise, controlling technologies to guide aircraft through the provided optimum flight (landing approach) path, and high-accuracy satellite navigation technologies to support these described areas. The remaining technology 5) enables smooth and effective information sharing among multiple rescue aircraft and relief headquarters, which enables the provision of appropriate instructions in a timely manner and which thereby reduces time wasted on waiting and risks of accidents.
Research and development on these technologies have been successfully completed by the end of FY2014. JAXA continues to pursue follow-through activities such as making proposals concerning the technologies to international standardization organizations and promoting technology transfers to the private sector and other destinations.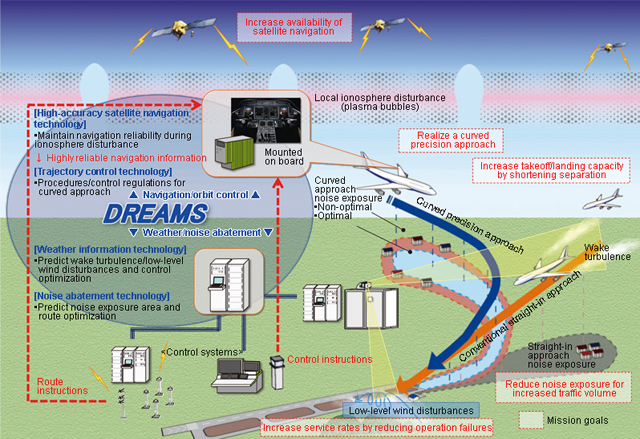 DREAMS weather, noise abatement, satellite navigation and trajectory control technologies
Weather information technology
Through developing weather information technologies, we aim at expanding airport capacity and improve the in-service rate by reducing the effects of wake turbulence and low-level wind disturbances.
Noise abatement technology
By optimizing approach routes to airports, we aim to maintain the noise exposure on the ground at the current levels, even with increased traffic volume.
High-accuracy satellite navigation technology
By using on-board inertial navigation devices and by improving the reliability of satellite navigation devices, we develop high-accuracy satellite navigation device more rliable and usable anywhere, anytime.
Trajectory control technology
We aim to improve in-service rate at airports where an instrument approach is impossible because of limitations such as topography, and by enabling a curved approach using GNS landing systems (GLS, landing systems that use GPS).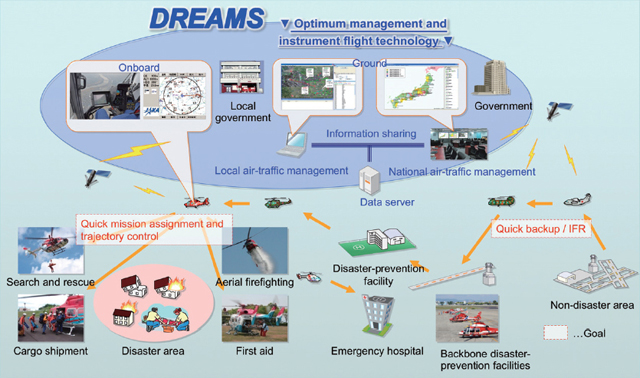 DREAMS: Aircraft operation technology for disaster relief
Aircraft operation technology for disaster relief
We aim to reduce wasted time and eliminate aircraft near-misses during missions and aim to improve efficiency and safety by sharing necessary information among rescue aircraft and with relief headquarters during disasters and by establishing optimum operations management.