About us
JAXA Aviation helps to create a safer and more prosperous society with aeronautics-related research and development activities.
FLIGHT PATH No.23 | 2019 SUMMER
<Advanced research into composite materials and structures>
Aiming to become an R&D hub that meets the needs of the industry while generating seeds
Research into structure and materials is one of the main pillars in JAXA's aeronautical science and basic technology research program. NAKAMURA Toshiya, Director of the Structures and Advanced Composite Research Unit, introduces the latest efforts and future outlook in this field which is now experiencing major changes.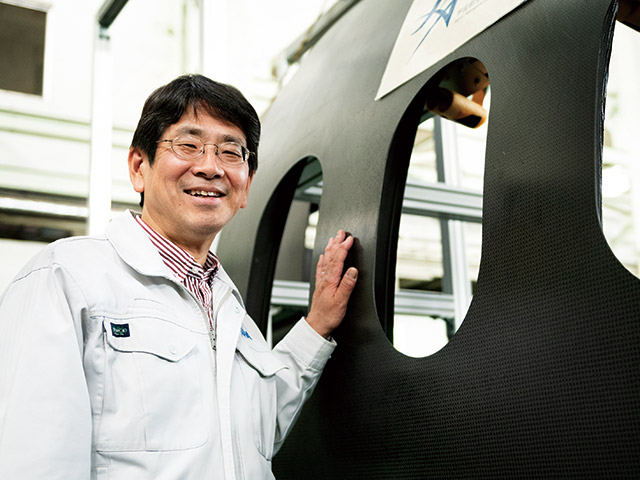 NAKAMURA Toshiya
Director of the Structures and Advanced
Composite Research Unit
Breaking away from the "Black Metal"
Tell us about the latest research in the Structures and Advanced Composite Research Unit.
Composites are ideal materials for aircraft as they are both light and strong. The use of composites in commercial aircraft gradually started in the 1980s, and the Boeing 787 came out in the early 2010s with composites applied to the primary structure. To put it bluntly, however, composites are now used only as a replacement for metal. In other words, they are used as "black metal" (referring to the black color of CFRP).
For aircraft, composites are relatively new materials compared to metal, and we have yet to fully leverage the advantages they offer. Meanwhile, manufacturers around the world are striving to find ways to reduce the cost of composite materials because airframers will not use them if they are expensive. For cost reduction, manufacturers in other countries use robots. Japanese companies are faced with the need to respond as well.
Our research unit addresses wide-ranging research designed to meet various needs of the industry, such as reducing the cost of composites, as well as advanced research aimed at developing future materials and structures. Our goal is to become a structural and composite materials technology hub that responds to industrial needs while generating seeds.
Tell us about JAXA's participation in the "Materials Integration" for Revolutionary Design System of Structural Materials for the Cross-ministerial Strategic Innovation Promotion Program (SIP)*1.
It is an example of research that responds to industrial needs. Government projects like SIP bring in manufacturers right from the beginning, which helps us develop better research outputs as solutions for the industry.
*1: A government program led by the Council for Science, Technology and Innovation. It is a cross-ministerial, interdisciplinary effort covering the full spectrum from basic research to practical application and commercialization.
Tackling automated fiber placement technology as a research hub
What kind of research is JAXA doing in SIP?
We are studying automated fiber placement (AFP) technology for one thing. CFRP is made by laying up prepregs (carbon fiber sheets pre-impregnated with resin) and curing the laminates by heating them under pressure in an oven called an autoclave. The recent trend overseas is to use robots to automate this fiber placement process as a way to cut costs. This is an area where Japanese companies lack competitiveness, so we are trying to acquire high-quality AFP technology in SIP.
For example, composites occasionally have voids and other types of defect. For this reason, a computer-based numerical simulation must first be performed to predict what kind of defect may form in a material produced by AFP, and how strong the material will be, and to identify what improvements are needed. JAXA's role is to combine theories and models developed by universities with simulation technology, and pass on the results to manufacturers. Also, we have testing capabilities for the developed materials. In particular, we can conduct structural tests on a real scale precisely. The results are shared with manufacturers and universities that participate in the project, so it all leads to the enhancement of Japan's technological level. This is the kind of role JAXA is aiming to play as a research hub.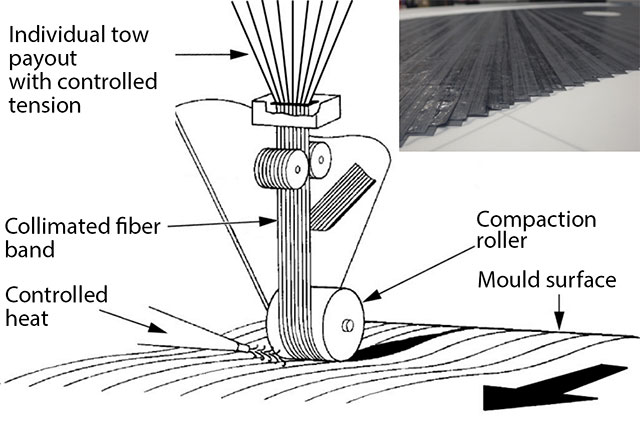 Head portion of an automated fiber placement machine. The carbon fiber tapes shown at the top, which are approximately 6 mm wide, are heated with a far-infrared heater as they are pressed and bonded with a roller (Illustration from "Tool path smoothing of a redundant machine: Application to Automated Fiber Placement" by Pierre Debout, Helene Chanal, and Emmanuel Duc [Computer-Aided Design, Volume 43, Issue 2, February 2011, Pages 122-132]). The tapes are laid up to form a laminate (photo).
AFP technology for thin-ply CFRP
You're also studying technology around thin-ply CFRP in SIP.
Yes. JAXA has been doing research on manufacturing CFRP with thin-ply prepregs since FY2013, when it launched its Third, the previous, Mid-term Plan. While this idea itself is not unique to Japan, the technology is. In order to make thin-ply prepregs, it is necessary to spread carbon fibers once, and the technology required to accomplish this is possessed by the Industrial Technology Center of Fukui Prefecture (ITCF). We have been doing research with ITCF from the very beginning. This unique Japanese technology is very challenging to use. Enhanced strength is expected as an advantage of thin-ply prepregs, but they also allow for greater freedom in designing composite plates of various thicknesses. By making the sheets thinner, you can achieve smoother gradation in plate thickness, but it also means more work in laying up prepregs, which is why we need to automate the process.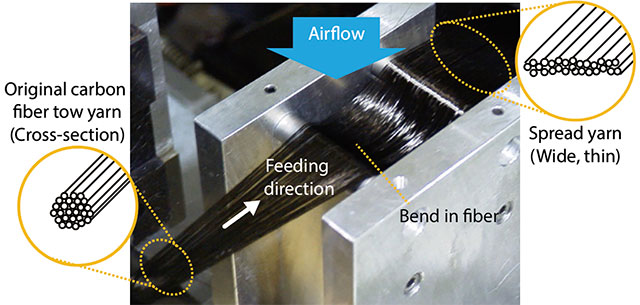 Principle of spread tow technology. Carbon fiber tow is bent in the feeding process to allow the fibers to spread outward (widthwise) by means of airflow. (Image courtesy of the Industrial Technology Center of Fukui Prefecture)
Bionic Airframe and thermoplastic CFRP
More extensive research will be needed to fully leverage the advantages of composites.
I believe so. Our work on Bionic Airframe is aimed at developing technologies that will allow us to give full play to the advantages offered by composites. Once we have new forms of aircraft unlike anything we have seen in the past, we will definitely need this kind of technology. For example, if we are going to develop something like flying cars or electric aircraft, we will probably have to deal with new needs that did not exist with conventional aircraft. That's why I believe it's important to keep cultivating the technological foundation to address such future needs flexibly.
How about your research on thermoplastic CFRP?
We do research on thermoplastic CFRP, although it is thermosetting CFRP that is extensively used in current aircraft such as the Boeing 787 and Airbus A350 XWB to achieve weight reduction. However, these composite parts use numerous metallic bolts as fasteners, which adds to the overall weight. In other words, these aircraft do not enjoy the full advantage of the strong and lightweight properties of composites. The composite materials currently used are thermosetting CFRP, and they harden when heated. On the other hand, thermoplastic CFRP softens when heated, making it easier to process and mold, and it also has high impact resistance. As such, we are working to develop welding and joint technology to enable integral fabrication of thermoplastic CFRP.
Research into materials and structures are interrelated
What are the benefits of doing research into materials and structures integrally?
In composite studies, materials and structures are interrelated. That's the biggest difference between metal and composites. Let me explain in more detail. Metallic materials are homogenous, so if you have a good material, you just have to use it. With composites, on the other hand, you can align the direction of the fibers with the direction in which force is applied, and this is where structural elements come into play. Without leveraging the advantages of composite materials in structures, you won't be able to do meaningful research.
What are your next challenges?
The Boeing 787 brought us to the point where composite materials are applied to the primary structures. In response to the next industrial needs, we did research on manufacturing high-quality composites faster and more cheaply for some years, and that's essentially what we are trying to achieve in SIP. As a researcher, however, that wasn't enough. When we tried to take our research farther, we had to coordinate our work on materials and structures. This kind of thinking and research is nothing new, but I believe we can tackle new challenges by making the most of the latest technologies, such as simulation technology and AFP.
How would you like to manage your research unit, which has many young researchers?
I would like to encourage them to address both the needs-oriented research and seeds creation research. JAXA has long played a major role in the development of Japan's composite materials technology, working hand in hand with academia and the industry. By building on its past accomplishments, I'm hoping that JAXA can grow as a research hub for industry-government-academia collaborations through its work for SIP, for example. I also would like to see JAXA's researchers playing a central role in creating new technologies. To this end, we must make sure we don't nip new ideas in the bud. If I focus too much on any particular new ideas, I will end up constraining the effort, so I basically leave it up to young researchers to explore new ideas freely up to a certain point.
Another thing we shouldn't forget is internal coordination with JAXA's other departments and units. For example, we have many roles to play in studying ceramic matrix composites (CMC), which have excellent heat-resisting properties. CMCs are often used in the space field. At the Aviation Technology Directorate, we are developing engine technology using CMCs in the newly launched project "Environmentally Compatible Core Engine Technology Research (En-core)." We will also be seeing new aircraft like supersonic aircraft and electric aircraft, so we would like to do our part while also communicating with relevant departments and units. I'm hoping to see synergies like new ideas or AFP technology developed by our research unit finding application in future unconventional aircraft.
Feature Story
Advanced research into composite materials and structures