Research & Development
JAXA promotes three research and development programs and a fundamental research program that underpins them.
Unmanned Airplane for Radiation Monitoring System (UARMS)
Since June 2012, JAXA, in cooperation with the Japan Atomic Energy Agency (JAEA) , has been conducting research and development on a small Unmanned Aerial Radiation Monitoring System (UARMS).
JAXA's research focuses on:
Unmanned aerial vehicle (UAV) system design including on-board system redundancy
System safety technologies for small unmanned aircraft system (UAS) operations
Automatic flight control technologies for more precise radiation monitoring
JAEA's research focuses on:
Aerial radiation monitoring methodologies using UAS
Light and small radiation detector system
The research is being conducted to be used for radiation-monitoring missions in the restricted area of Fukushima in the near future.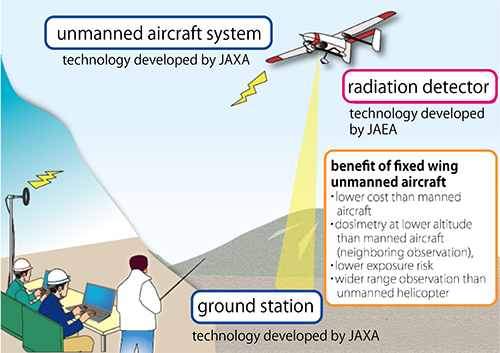 Conceptual diagram of radiation monitoring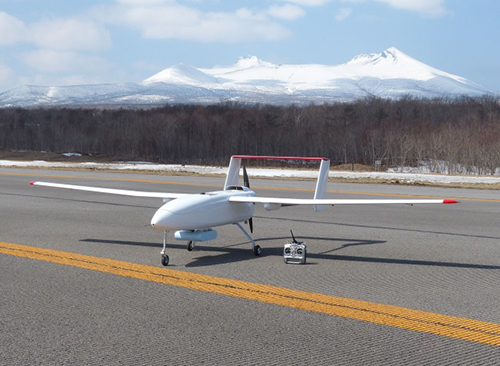 UARMS
UARMS Specification (Improved version)
Dimensions
Length: 2.7 m, wingspan: 4.2 m
Max. takeoff weight / Payload
50 kg / 3 to 10 kg
Power plant
Engine (gasoline)
Endurance
6 hours (daytime)
Airspeed
25 to 35 m/s (90 to 126 km/h)
Takeoff and landing distance
200 to 300 m
Cruise Altitude
below 250m, to fly below minimum safety altitude of civil aircraft
Control
Programmed flight (including terrain-following mode)
Manual take-off and landing