En-Core: environmentally compatible core engine technology research project
The En-Core Project aims at establishing core engine technologies that reduce emissions of nitrogen oxides (NOx) and carbon dioxide (CO2). We named the project "En-Core," meaning "Environmentally Compatible Core Engine". While the aFJR project addressed the low-pressure components to develop technologies for a highly efficient, lightweight fan and lightweight, low-pressure turbine, the En-Core project is targeting core engine components called high-pressure system in an engine. Major challenges are to establish technologies for improving thermal efficiency and lowering NOx emissions.
The acquired technology will help enhance the international competitiveness of Japan's aeroengine industry to expand its global market share. In addition to the outputs from previous researches on low-pressure parts, the project will contribute to developing a more efficient and environmentally compatible aircraft engine.
Ultra-low NOx Lean Burn Combustor
Combustors in the latest aviation engines adopt the RQL (Rich Burn/Quick Quench/Lean Burn) combustion method. The RQL method reduces NOx emissions while stabilizing combustion, but further reductions of NOx emissions appears difficult under this current method. JAXA has been studying the lean burn combustion method for less NOx emissions than the RQL technique. Lean burn is combustion that takes place with a premixed ratio where the amount of fuel is small compared to the amount of air. The En-Core project aims at demonstrating the performance of the ultra-low NOx lean burn combustor at practical level.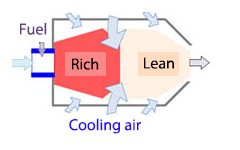 RQL combustor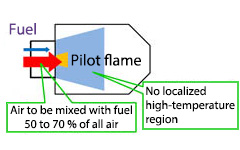 Lean burn combustor
High-temperature High-efficiency Turbine
JAXA is aiming to establish high-temperature, high-efficiency turbine technology with strong international competitiveness. Based on technologies accumulated through past researches on aerodynamic performance prediction, high temperature material, and cooling for turbine vanes, the En-Core project aims to develop four technologies; "CMC stator vane design technology," "film cooling technology," "blade internal cooling technology," and "loss reduction by 3D aerodynamic design technology."
CMC stator vane design technology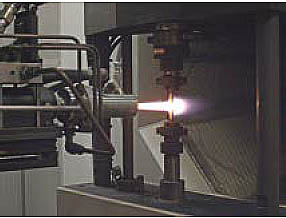 Using the Ceramic Matrix Composites (CMC), which have higher thermal resistance than the currently applied superalloy, losses caused by cooling air will be reduced.
Film cooling technology
This technology will reduce mixing losses by high-temperature gas flows around the high-pressure turbine and coolant air ejected through the blade cooling holes.
Blade internal cooling technology
Cooling air necessary for the high-pressure turbine will be reduced by adopting the internal cooling structure that has higher cooling effects.
Loss reduction by 3D aerodynamic design technology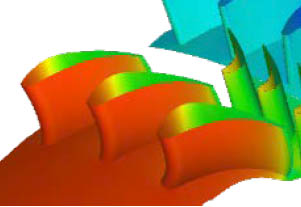 By utilizing computational fluid dynamics (CFD), 3D design technologies will be applied to reduce aerodynamic losses on the surface of the blades.
October 23,2019 Update